Living without a smartwatch is possible – until you start using one and then you can't go back to pre-smartwatch days. Whether you're a busy business person, a rushed commuter, or a bustling college student, Apple Watches save you some precious time, aid your schedule, and even monitor your health.
But if you have sensitive skin, there might be a catch. If the band material is not skin-friendly, your skin might end up being irritated, red, and rash-y from an allergic reaction.
Of course, not everybody with sensitive skin has problems with the band. But if you're doubtful and if your skin is easily irritated, you shouldn't be overlooking the possibilities.
What kind of skin problems do Apple Watch Bands cause?
Frankly, there's no one particular reason why some people get these allergies or skin reactions. But the diverse nature of the skin issues makes it very difficult to address the problem.
But here are some common causes of skin reactions due to the Apple Watch band:
Sweat: If you live in humid conditions or simply sweat a lot, the sweat might end up drying under the band and cause rashes. This issue is not exclusive to Apple Watches and might happen with any watch.
Friction: Wearing your watch too tight causes friction between your skin and the band. And if the band is crafted from some rubbery material, it might irritate your skin. In this scenario, you should consider getting a more breathable, natural material.
Nickel allergies: Some people might be allergic to nickel, and if you're one of them, then your skin might react to it. The watchband has a layer of nickel which Apple has coated with a glassy material to prevent contact with the skin. However, there's a slight chance that your skin might still react to it.
To prevent rashes, redness, and blisters, you can opt for a band that's crafted from hypoallergenic or silicone materials. You can go for a high quality leather band, metal band, link bracelet, and even a Nike sports band.
WFEAGL Compatible with Apple Watch
WFEAGL's leather straps are quite elegant. As they're crafted from pure leather, they have a classy look and are generally more comfortable. Leather is a natural material, often crafted from cowhide.
The metal buckle is also made from a higher-quality metal and not nickel. So you'll be safe against allergies caused by unnatural materials and nickel. You can choose from 18 different color combinations to suit your style.
Why we recommend:
Crafted from pure leather
Waterproof and sweatproof
Silica gel prevents abrasion
SKYLET Sport Bands Compatible
To beat the heat and sweat, SKYLET's breathable sports band might be your way to go. The soft silicon sport loop bands have a holed pattern which allows passage of air. The skin-friendly band is waterproof, lightweight, and comfortable which makes it a fit for daily wear and sports activities.
You can get these easy-to-clean bands in packs of two, three, or four bands and in several color combinations.
Why we recommend:
Breathable, soft silicon
Lightweight and comfortable
Fit for sports activities
Native Union Classic Strap for Apple Watch
Crafted from genuine Italian Nappa leather, Native Union's Apple Watch strap looks classy and elegant. With the minimalistic design and slim form, it'll be a comfortable fit for daily wear. The buckles are made from stainless steel, so you don't have to worry about nickel allergy. You can use the Native Union strap for Apple Wath 1, 2, 3, 4, 5, 6, 7, and SE.
Why we recommend:
Crafted from Italian Nappa Leather
Minimalistic, elegant design
Compatible with 1 to 7 and SE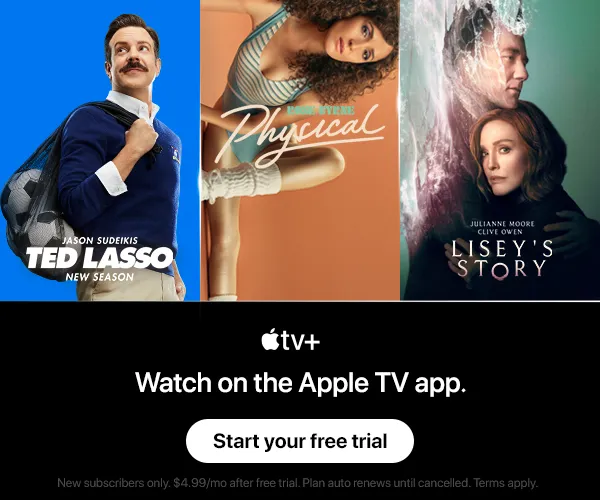 iteeology Compatible with Apple Watch Band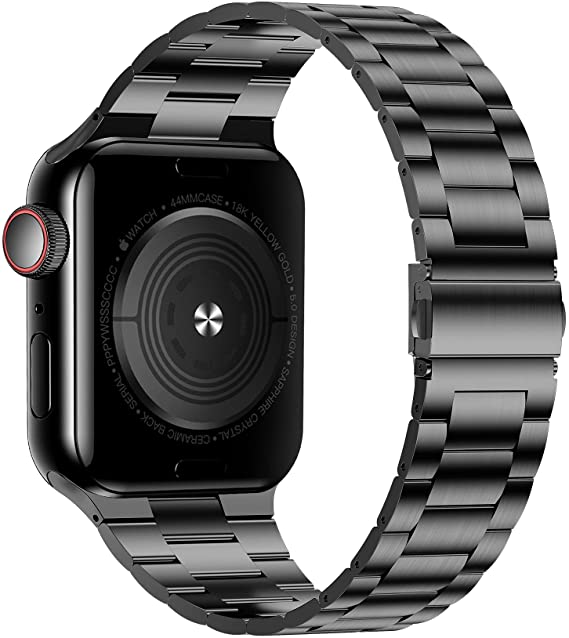 If you like metal bands or link bracelets, you should check out iteeology's Apple Watch band. It's quite durable as it's made from stainless steel. However, it doesn't compromise on style. It's thin, form-fitting, and fits the wrist well. The metal band is an upgrade over its predecessor – now it's an integrated whole with no screws or joints. You can choose from nine different metallic shades to suit your style.
Why we recommend:
Made from stainless steel
Integrated whole – no screws
Thin, form-fitting, and durable
Carterjett Compatible Apple Watch Band
If you're not a fan of leather, you can go for a silicon band. Carterjett's ultra-soft silicon strap is hypoallergenic. The sports band has patterns on both sides which lend it a unique look. The adapters have been permanently attached to the band, and not screwed so they're unlikely to come loose. As it's made of silicon, it's water and sweat-resistant making it suitable for sports activities like swimming.
Why we recommend:
Ultra-soft silicon
Unique, patterned look
Fit for sports activities
SAVIOR SURVIVAL GEAR Band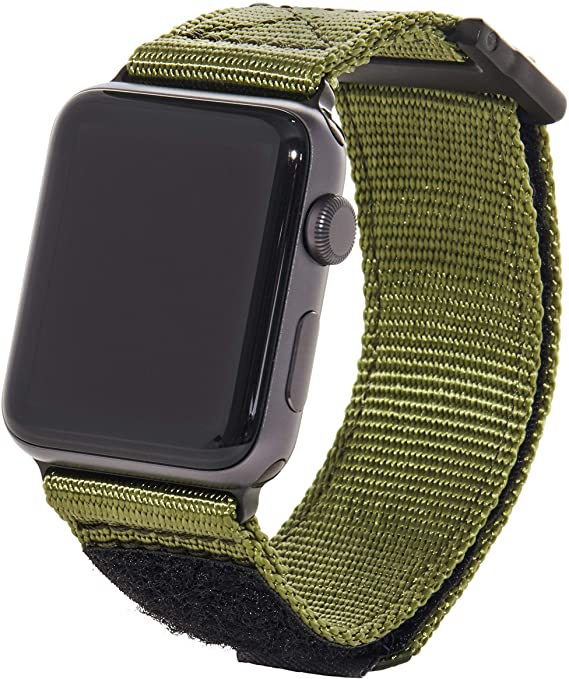 For the adventurer in you, you need a watch band that's rugged and durable. Savior Survival Gear's Milanese loop strap is made from nylon that's fit for hikers, campers, and anyone with an adventurous life. The harder parts are made from stainless steel which makes the strap durable and higher quality. The watch band is adjustable to fit your wrist size. You can pick from five elegant colors.
Why we recommend:
Crafted from durable nylon
Versatile design and rugged look
Comfortable and adjustable
Conclusion
At the end of the day, everyone has unique skin and skin conditions. There's no one-size-fits-all solution. It's your skin and you know it better than anyone else.
To see if the hypoallergenic material suits your skin, you might want to take a quick patch test. Wear the band for a few minutes to see if it suits your skin before using it regularly.
Lastly, don't forget to clean the watch bands every few days to reduce the possibility of skin problems. Most of the silicon, metal, and leather bands can be wiped clean easily.
Looking for a portable Apple Watch charger? We've hunted down the best Apple Watch chargers on the internet to suit all your purposes.
This article includes affiliate links, which may provide small compensation to Macbrane.