The beauty of the Apple TV chassis is its minimalist styling–which lends itself perfectly to a TV mount and an "invisible" living room.
Using a TV mount means you can effectively "hide" the Apple TV unit, and its associated connectors, completely out of view. This is perfect for anyone who hates cords or, at the very least, wants an environment where the electronical necessities are tucked away as much as possible.
But to achieve such a dream, you'll need a TV mount. There's several specialist Apple TV mounts available, ranging from permanent fixtures to clippable designs that can be moved around at will.
What is Apple TV?
The Apple TV unit is basically an affordable streaming box that connects to your existing TV via a HDMI cable. Along with Apple's own content, the device provides a cleaner, faster interface for browsing and viewing 4K, HDR and Dolby Atmos-supported content.
If you've got an older smart TV that doesn't have the Apple TV app — or it's not connected to cable or free-to-air services — then the $169 Apple TV can be a great investment. Along with access to non-Apple platforms like Amazon Prime, Disney+, HBO Max and others, it also makes games more accessible via Apple Arcade, and adds support for Apple Music, Apple Fitness and more.
The Best Apple TV Mounts
TotalMount Apple TV Mount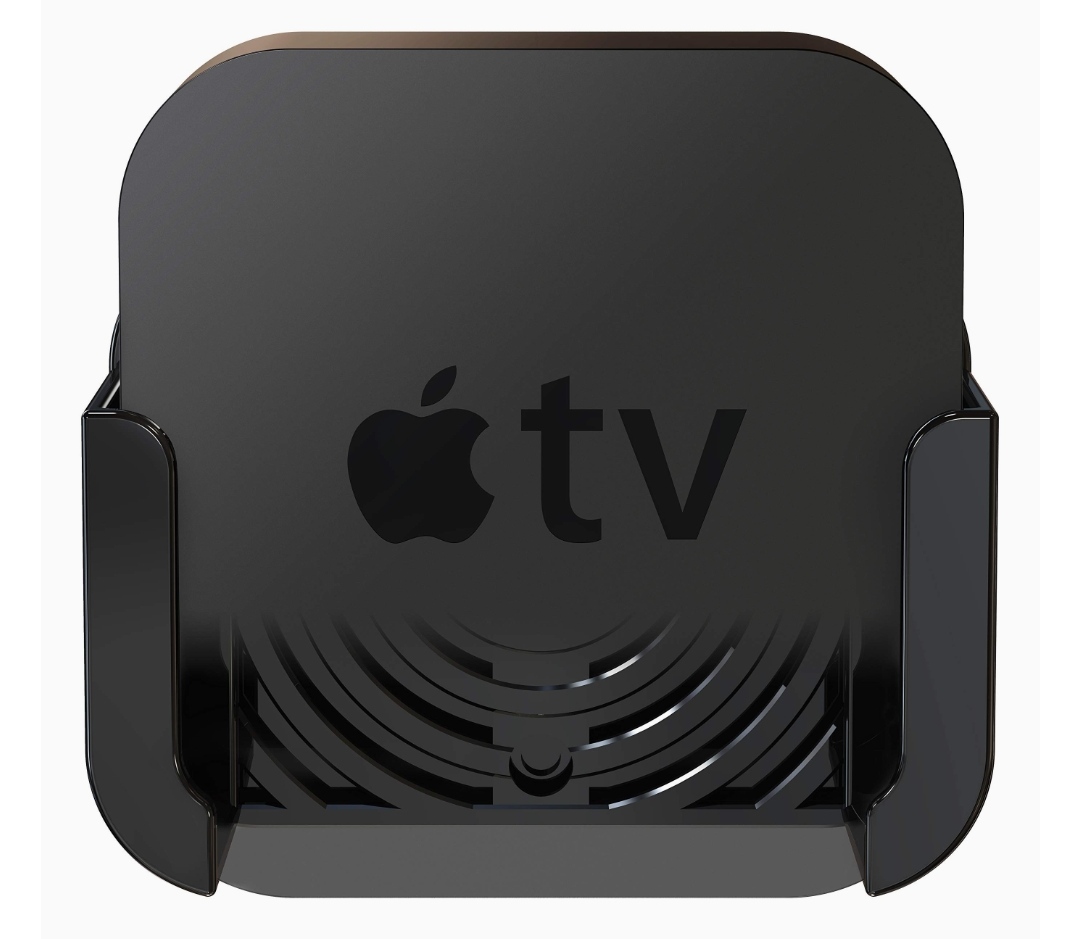 This is a deluxe mount for Apple TV and it's excellent for wall-mounted televisions such as your Apple TV. It's compatible with all types of Apple TV including the new Apple TV 4K, Apple TV HD, and the 2nd, 3rd, 4th, 5th, and 6th Apple TV generations.
It also comes with a variety of premium features such as its three mounting options, special adhesive for elevated TV temperatures, and innovative hooks for TV vents. Ultimately, it's a reliable Apple TV Mount from a trusted brand with more than 70 patents and a long history of quality and reliability.
Wide compatibility range
Several mounting options
It is reliable
HIDEit Mount for Apple TV 4K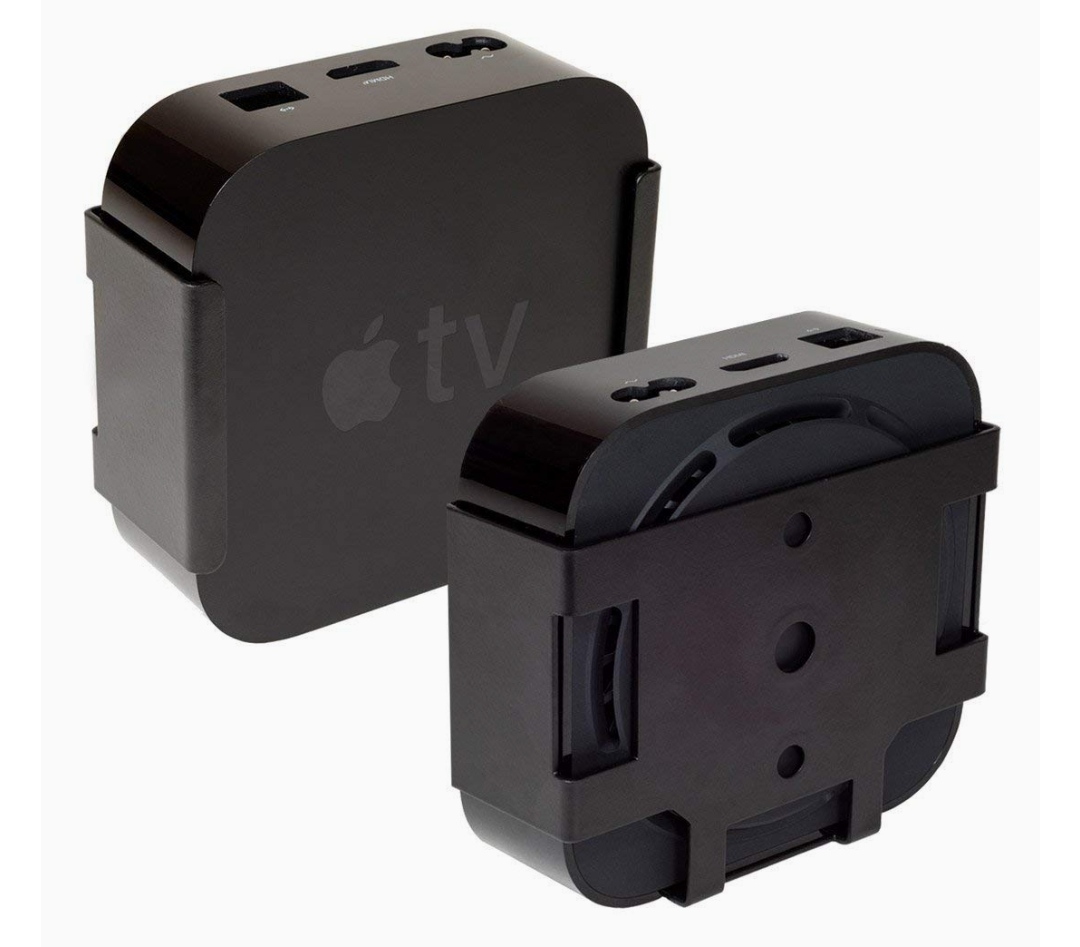 This is a fine Apple TV Mount that's designed for maximum ventilation. The distinct design does well to stay clear of blocking the vents on your Apple TV to ensure proper airflow. It also supports a wide range of Apple TV including the new Apple TV 4K model. The holder at the back of the TV offers solid protection from 16-gauge, cold-rolled steel for strength you can trust.
And you don't need to worry about signal interference either, the Apple TV remote uses Bluetooth technology which allows you to hide your Apple TV behind the TV without fear. Lastly, it is very easy to install with no complicated templates, drills, or even stud mounting.
Maximum ventilation and proper airflow
Supports multiple Apple TV models
Easy to install
ReliaMount Apple TV Mount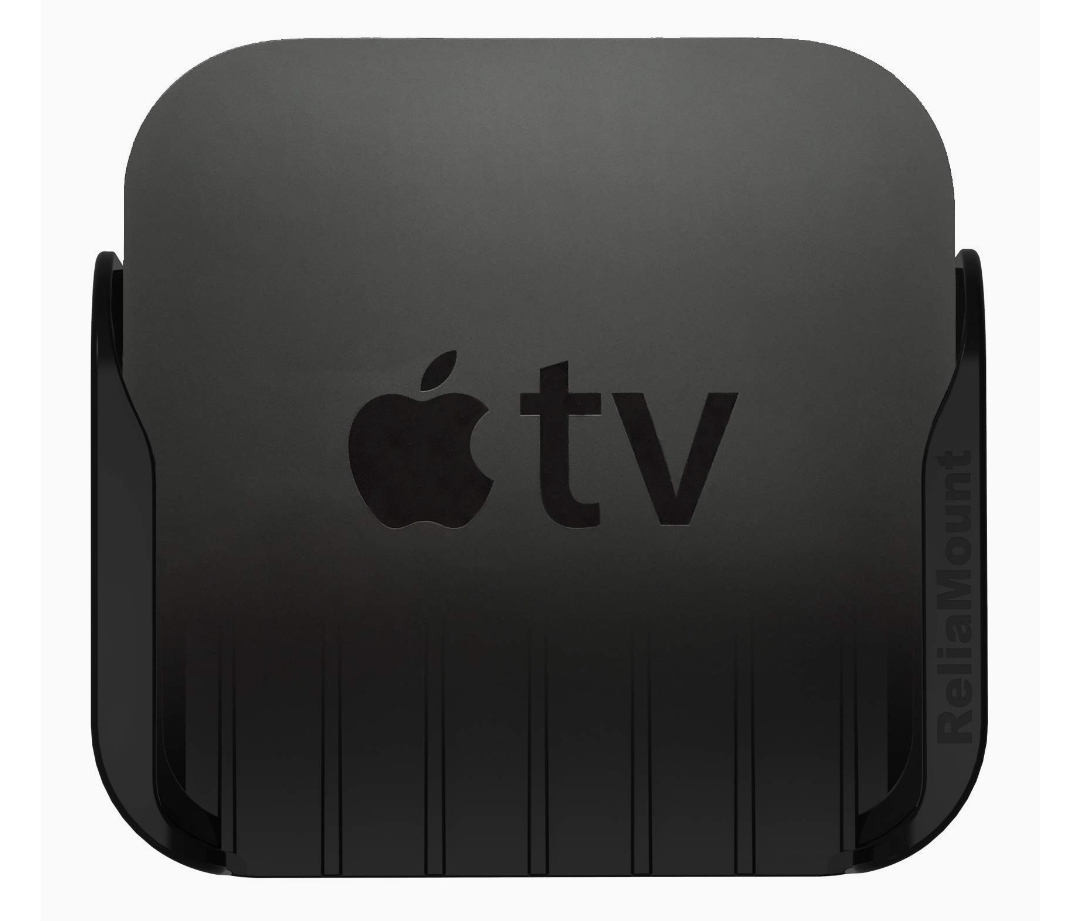 The ReliaMount's Apple TV Mount impressively attaches Apple TV to the back of your TV using a special adhesive that's formulated to fit the elavated temperatures of TVs, making it perfect for televisions that are mounted to a wall.
It's easy to install and attach at the back of your TV. There's no need to drill holes in your walls and no extra tools are required to install. It supports all types of Apple TVs as well, from the new Apple TV 4K to Apple TV HD, and the 2nd, 3rd, 4th, 5th, and 6th Apple TV generations).
Wide compatibility range
Perfect for wall-mounted TVs
Easy to install
elago TV Wall Mount Compatible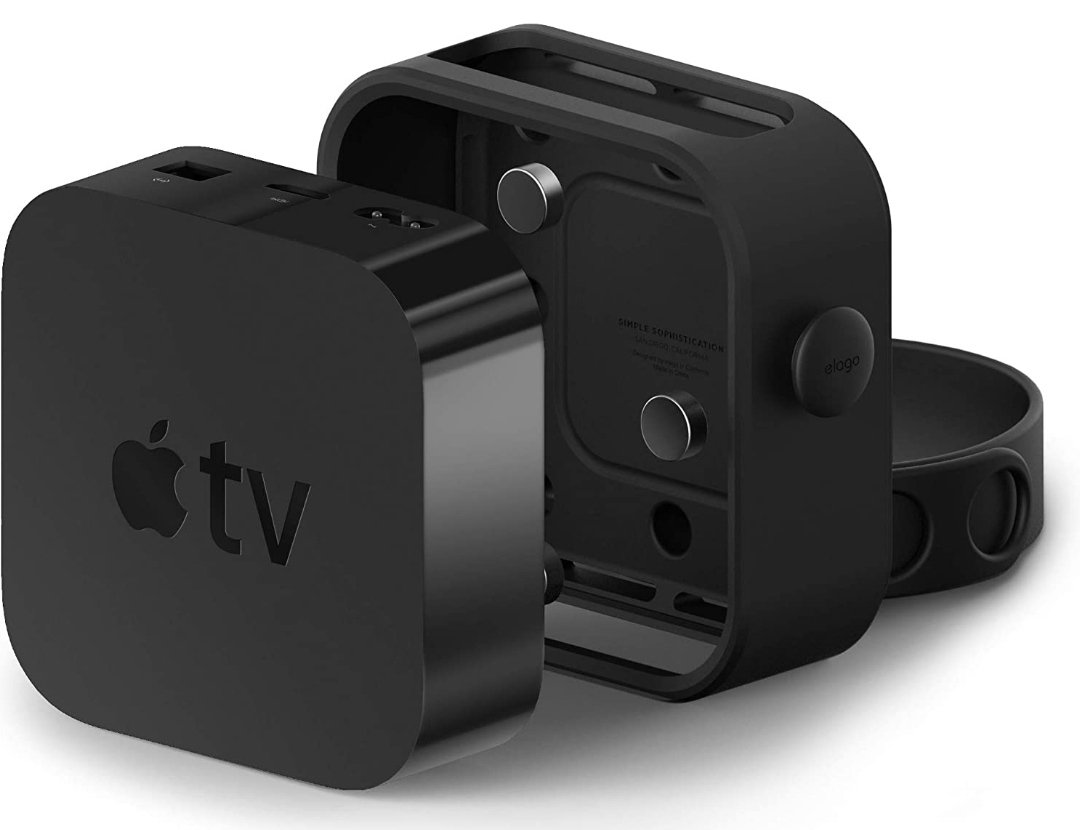 As the name suggests, the elago TV Wall Mount is compatible with all types of Apple TVs including the new 2021 Apple TV 4K, Apple TV HD, and the 2nd, 3rd, 4th, 5th, and 6th Apple TV generations. Unlike some inferior TV mounts that don't stick well enough on your wall, the elago Apple TV Mount offers a solid strap to enable you hang your Apple TV anywhere.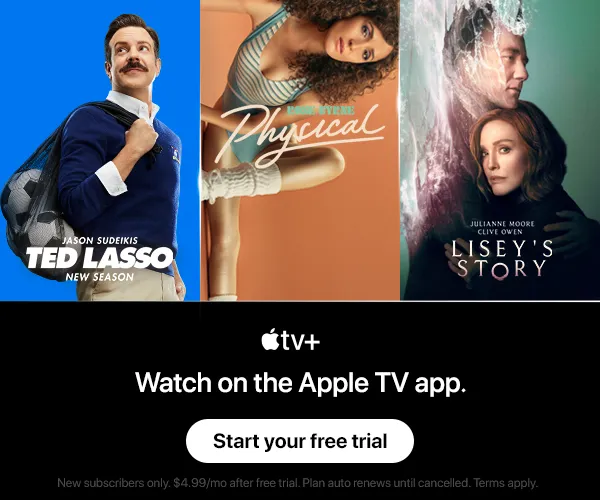 It also lets you keep an organized space by perfectly hiding your Apple TV behind your television to protect it from scratches and other sorts of damage. Also protects your Apple TV from overheating with impressive vents that allows just enough airflow to circulate under the device.
Wide compatibility range
Solid and reliable strap
Scratch and damage protection
Emerald Adjustable TV Clip Mount Holder for Roku/Apple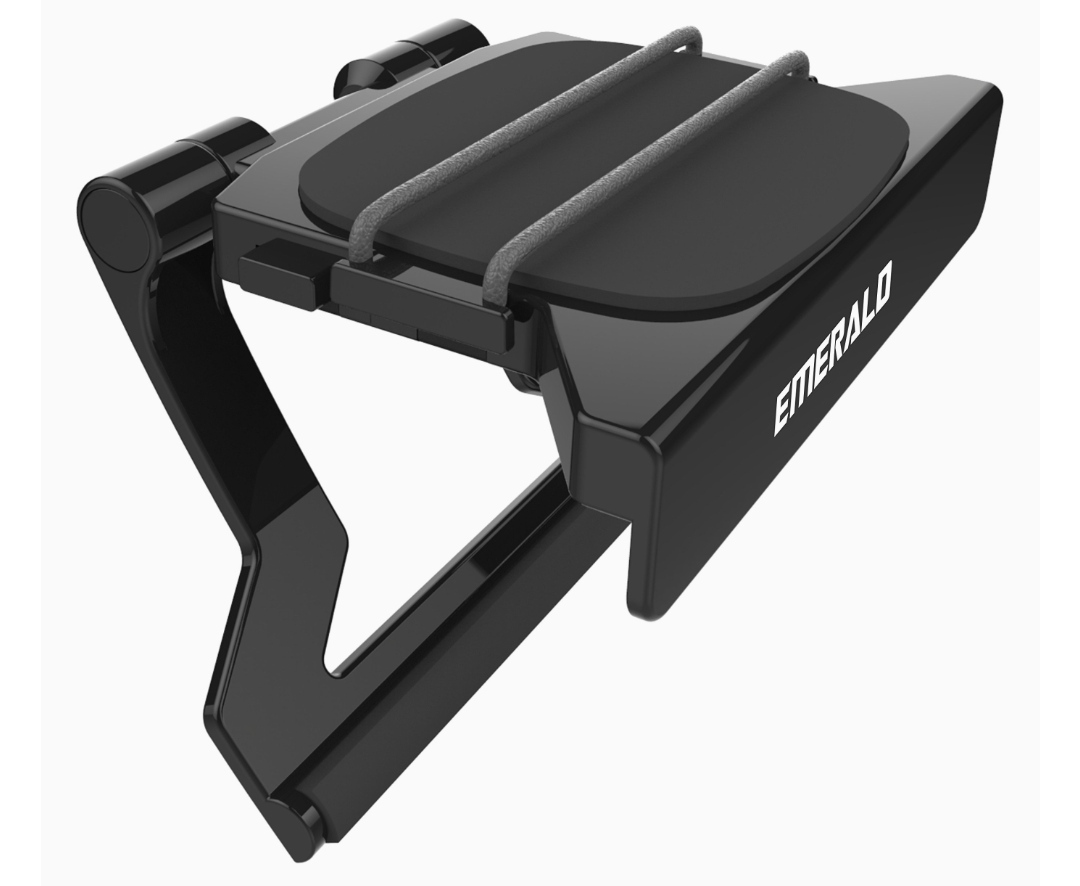 This is excellent in helping you save a considerable amount of shelf space. It's very easy to install within minutes and is adjustable to fit prett much any TV. It also comes with rubber panels that protect your TV from any scratches. There's also remote reception if you decide to mount your device.
It creates a fine and adjustable storage for your Apple TV, Roku 3, Fire TV and access to many other media boxes on the market. Also eliminates the need to tunnel an HDMI cable through your wall.
Good for saving space
Easy to install
Scratch protection
Auswaur Wall Mount Bracket Holder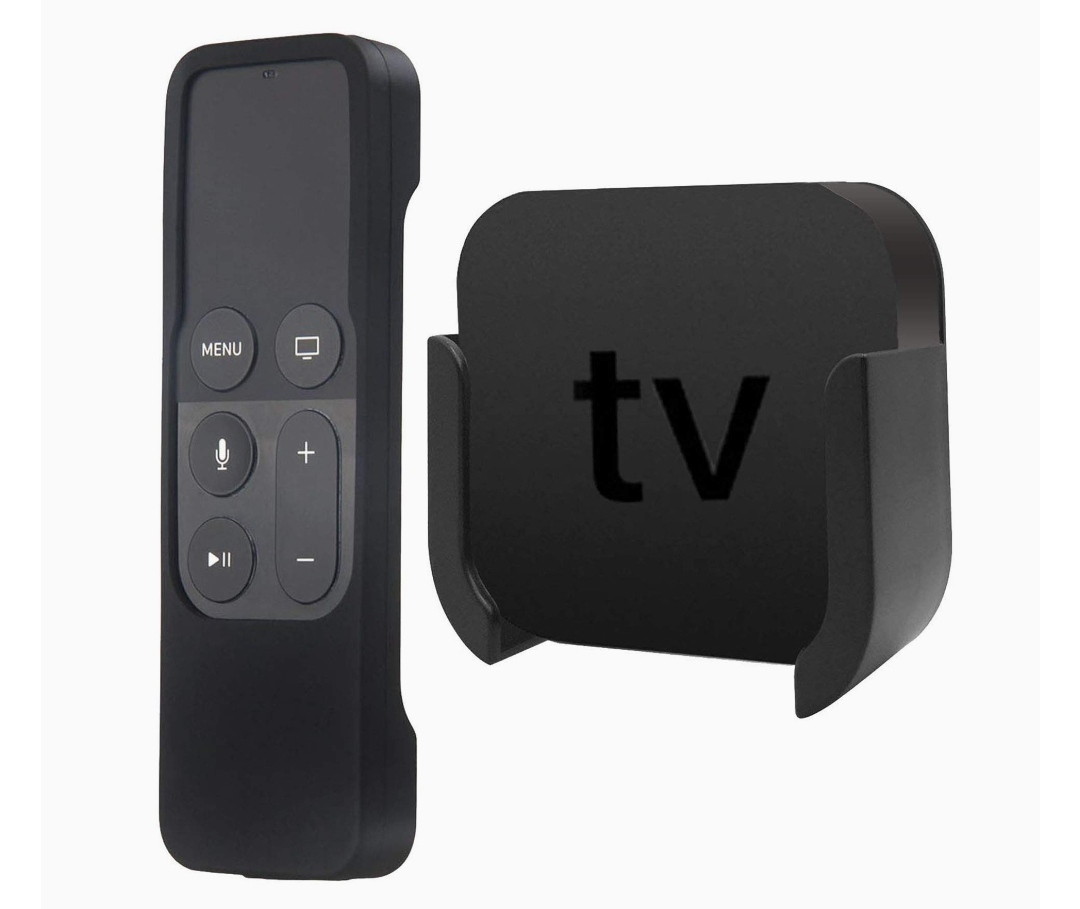 The Auswaur Wall Mount is perfect for attaching your Apple TV and is compatible with Apple TV HD 4th 5th / Apple TV 4K 1st and 2nd Gen 2021. It comes with a silicone case that's specifically designed for the new Apple TV 4K and HD 4th Generation Siri Remote.
It's very easy to install as everything you'll need to attach the Auswaur Wall Mount is included. Just attach, insert and connect. Its wide range of compatibility and silicon protective case makes it a reliable and commendable Mount for your Apple TV.
Wide compatibility range
Protective silicon case
Easy to install
That's it from us on the best Apple TV Mounts that you can get for better comfort and reliability when watching TV.
This article includes affiliate links, which may provide small compensation to Macbrane.